Students Explore Leadership & Legacy in History

Mar 09, 2015 12:58AM, Published by Diana Bogan, Categories: Community Knox History
---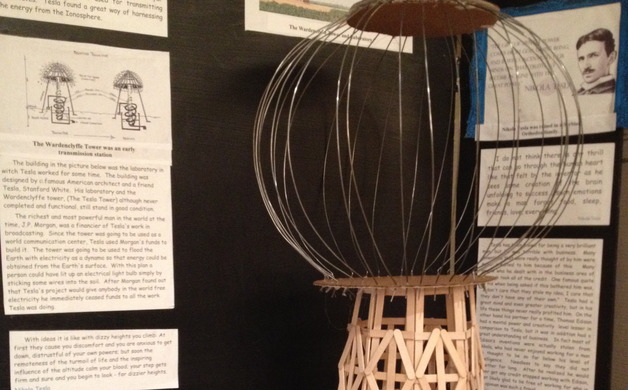 Tesla Tower by Matthew Spitler, Coedy Hinkle and Carrie Watkins
---
Attached PDFs
---
Gallery: 14th Annual East Tennessee History Day Exhibits [19 Images] Click any image to expand.
---
---
Nearly 370 sixth- through 12th-grade students gathered at the University of Tennessee to participate in the 
14th Annual East Tennessee History Day competition
. Since the start of the 2014-2015 school year students have been busy researching a topic of choice as it relates to the theme of Leadership and Legacy in History.
The rigorous program challenges students to conduct extensive primary and secondary research, interpret information, and draw conclusions about the meaning. In the process students examine topics within an historical context, learning important content as well as valuable research, critical thinking, and communication skills.
"By participating you've learned to do things many kids don't know how to do when the come to college," Ernest Freeberg, UTK Department of History Head told participants. "The study of history is about being able to phrase your own questions, find answers and communicate it to others."
When it comes to communicating their findings, students have a choice of presenting research in one of the following forms: Documentary film, research paper, performance, project board or website. Participants compete in either the junior (6-8 grade) or senior (9-12 grade) divisions as an individual or in a group. 
The history day event at UTK provides students the opportunity to present their projects to fellow contestants and the public, as well as, undergo an interview process with a panel of judges. The judges have the difficult job of selecting the winners in each category to move on to the next level of competition. First and second place winners will compete at state competition in Nashville April 11, 2015. Third place winners serve as an alternate. 
East Tennessee History Day is a district contest of Tennessee History Day, a state affiliate of the National History Day program. Students from 31 schools throughout East Tennessee were represented this year.  
Two scholarships sponsored by Randy and Jenny Boyd are awarded to students whose projects have a focus on East Tennessee history and feature quality primary resources. A third scholarship, also sponsored by the Boyds, is awarded to a student whose project focuses on an East Tennessee business and/or technology topic and features quality primary resources. 
Scholarships are available to all interested high school student participants. East Tennessee History Day Coordinator Lisa Oakley noted that application is open to all students, not just juniors and seniors. "The scholarship award will be held and available after graduation," she said. "If you're a high school student you are eligible to apply just for participating in the history fair. Tell us about the benefits of participation and what you loved about your history day experience."
The theme for the 2016 history fair will be Exploration, Encounter, Exchange in History. Oakley told students its never too early to start researching a project for next year's competition. 
A list of this year's winners is attached. 
— 
Diana Bogan
---
Take a few minutes and watch a video on Tennessee History Day, directed by student, Emma Thompson.
---
---
Knox History East Tennessee History Day Leadership and Legacy in History
---