Zach Searcy Projects

Feb 04, 2015 08:27PM ● Published by Diana Bogan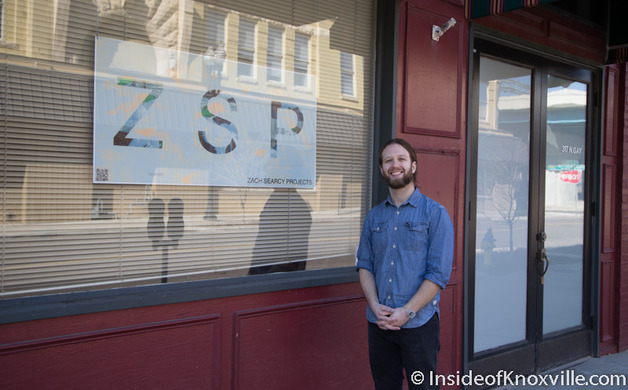 Zach Searcy Projects, 317 Gay St., Knoxville, Jan. 2015
I fist met Zach Searcy last May at one of the great events hosted at Paulk and Company on First Friday. His work spoke to me and I told him so. You can see some of his work in this article, but much more of it on his website. I was lucky enough to be there when the first work of the night sold and learned later that he'd sold a half-dozen or so that night, with the first selling in the thousand dollar range. I learned just yesterday that Virginia Adams and the gang at Paulk and Company have sold almost $40,000 worth of art out of their space since they began utilizing it for art exhibitions.
Just a few months later, Zach has a larger project underway. He's opening an art studio and a gallery which, together, he's calling Zach Searcy Projects. It officially opens this week with an exhibition of his own work for First Friday. Located at 317 N. Gay Street, it's just over the viaduct from the 100 block, across from the old Regas restaurant and around the corner from the Public House. It's  a pretty block of Gay Street and it is located in the up-and-coming area just across the tracks. He's calling it Zach Searcy Projects because he has nascent dreams of other possibilities for the space.
Read more about Zach and his dreams at Inside of Knoxville.
 — Alan Sims, downtown correspondent
Arts+Entertainment
Downtown
Business
Inside of Knoxville
Arts Scene