Quotes to Remember "From Selma to Ferguson" Panelists

Jan 31, 2015 10:31PM ● Published by Diana Bogan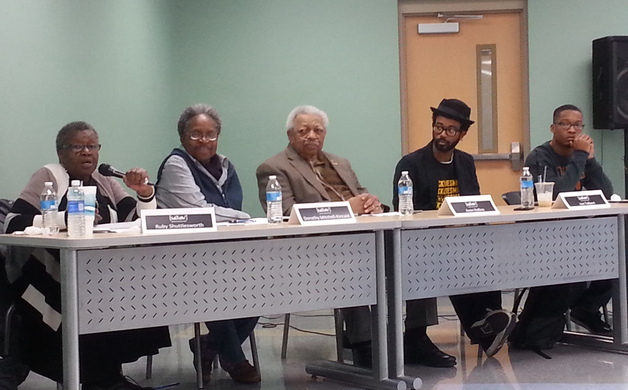 Panelists, from left: Ruby Shuttlesworth, Dorothy Mitchell-Kincaid, Avon Rollins, Joe Tolbert and Corey Legend Hodge. Photo: Elizabeth Wright
The Jan. 24 event "From Selma to Ferguson: The Movement Continues," was the latest Hip Hop Forum sponsored by 
the FLOW (Freedom in Learning Our Worth)
, a nonprofit that "educates, empowers, and enlightens" the public about hip hop and encourages dialogue around critical issues facing the community.
Panelists and attendees discussed lessons from the past while lifting up the importance of "sharing the torch" and supporting current youth-led movements that employ new tactics like decentralized leadership, social media engagement, and the celebration of hip hop culture and music to fight institutionalized racism, police brutality, and systemic injustice. 
Forum panelists shared what young leaders and elders need from each other in the movement. Our Quotes to Remember highlights some of the shared insight that stands out from our full coverage of the event. 
To Overcome "Learned Helplessness"
"I graduated salutatorian from Austin-East and only applied to UT. I told one of my mentors and she said, 'How about you apply to Pellissippi? It might be too hard at UT.' This was someone I looked up to. It's as simple as looking someone in the eye and saying 'You are capable.' Three words is all it takes to make a difference between someone being in an Ivy League college and on the streets."
–Corey Legend Hodge
Skill Development
"I don't want to come to the meeting just to help set up the room. There needs to be ongoing skill-development. There are multiple ways to lead that don't have to take the form of leading an organization. We can share the torch. The younger generation should be better equipped than learning the job while on the job."
–Joe Tolbert
Shared Knowledge
"We need to teach you how to be observant, how to watch the news, and for you to teach us [about] your music, about computers. Sometimes we're put off by the way young people are doing, but we need to spread our knowledge."
–Ruby Shuttlesworth
Shared Experiences
"The young generation can benefit most from you telling us your experience more. It wasn't until later that I heard some of the struggles that I was completely ignorant towards. That can inspire me and other individuals. That's the light switch - why do I need to waste what they went through?"
–Corey Legend Hodge
Emotional Justice
"We need to change how we approach community work. We need to figure out a way to let people deal with emotional trauma because African Americans don't have a lot of access to therapists. We need to create those structures in our communities where people can gather and deal with the trauma of doing this work and everyday life because having someone bear witness to your story is healing in itself."
--Joe Tolbert
Economic Justice
"In 2015, African American household income is approximately 58% of white counterparts. That affects your food, your care for your children, your health care. We have to address and confront economics as you hip-hoppers take the baton and run with it. "
–Avon Rollins
Expand Networks
"The good thing is there are all colors and ethnicities in the room. They don't want you together. They don't want rock n roll and blues to listen to hip hop because hip hop is not something they invented. That's how they try to keep us apart."
–Dorothy Mitchell-Kincaid
— Elizabeth Wright
Local Hip-Hop Community, Civil Rights Leaders Discuss Intergenerational Activism at Hip Hop Forum Read More » 
News
Featured Stories
Music