Just Ripe Sold to Century Harvest Farms

Jan 30, 2015 01:52PM ● Published by Diana Bogan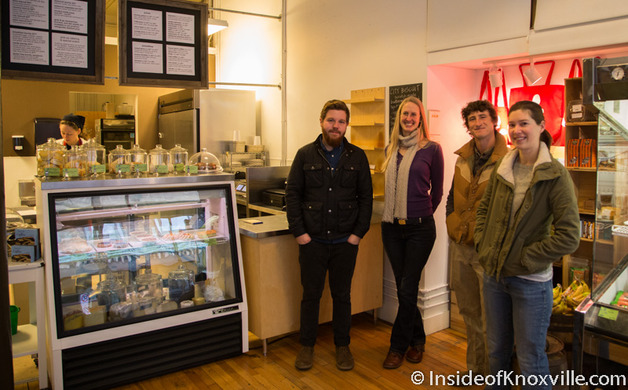 Joe Bliffen, Kristen Faerber, CharlotteTolley and Chris Burger, Just Ripe, 513 Union Ave., Knoxville. Jan. 2015
I've been waiting anxiously to share the great news that Chris Burger and Century Harvest Farms will close next week on their purchase of Just Ripe. In a very happy conclusion to my previous story about their decision to move on, Charlotte and Kristen are able to pursue other goals, Century Harvest Farms will expand their business model and perhaps the biggest winner of all is downtown Knoxville, which retains its small grocery store.
I met with Chris to discuss Century Harvest Farms and their plans for Just Ripe. He's engaging and excited about this new venture and the long-term plans he has for growing his business.  Interested in expanding to direct retail, they searched for a spot where, "intelligent people are making more progressive choices in food." They considered Happy Holler and other spots just north of downtown as well as Bearden. The public announcement that Just Ripe was on the market was a case of perfect timing for him. He'd already shifted his focus to downtown for a spot to bring his vision, which is very consistent with that of Just Ripe.
Century Harvest Farms, a three-hundred fifty acre farm founded in 2007 and owned by Chris and Shona Burger, is grown using organic and sustainable farming practices. The farm, located in Greenback, Tennessee, produces grass-fed beef, pastured pork, pastured chickens and eggs, and seasonal vegetables.
Read the rest of the story at Inside of Knoxville!
— Alan Sims, downtown correspondent
News
Downtown
Business
Inside of Knoxville
Alan Sims
Food
Century Harvest Farms
Just Ripe