From the Publisher's Desk: Here's What's Up

Jan 28, 2015 02:47PM ● Published by Crystal Huskey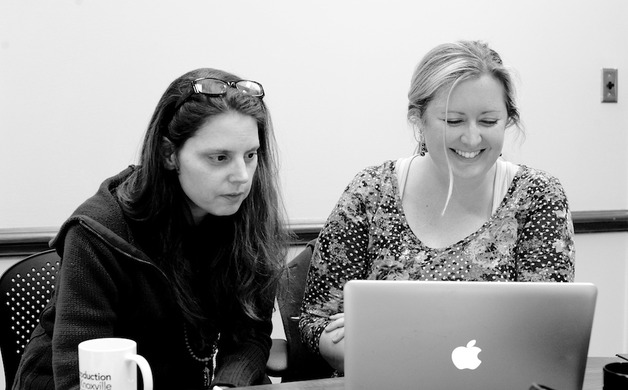 Publisher Crystal Huskey, right, working with Angela Townsend.
We've been 
in the news
 quite a bit. I probably enjoyed the hour-long interview on NewsTalk 98.7 the most, because it's very nerve-wracking to go on TV. Will I do TV interviews again? Sure. Would I like to one day have my own talk show? Yeah! Am I masochistic? Probably.
You've seen our stories over the past few weeks -- now, let's talk a little about what the Hard Knox Independent team is up to.
Anyway, radio is more fun.
The good news is that all of the tedious back-end drudgery has been completed, like lining up a printer, establishing a distribution route and building a website. The other good news is that we have a small army of freelancers. You're going to love them. They're all talented and weird, just the way we like them. (Black Atticus, Niles Haury, Scott McNutt, Elizabeth Wright, Michelle Gore, Suzanne Neal, Heather Duncan, Bill Dockery, Alan Sims and Jim Buckenmyer, just to name drop a few.)
The not great news is that we are pushing back our print date, but it's for a good reason. We had the good fortune of recruiting Carie Burchfield-Ofori as our art director, and Melanie Drouhard as our associate art director; we felt it would be wise to give them some additional time to beautify our paper.
We also hired Natalie Gwin as our sales director. If you're a business owner in Knoxville, expect to hear from her or see her lovely face very soon if you haven't already. You can reach her at natalie@huskeymedia.com.
Our projected print date is the week of Feb. 15. Those of you who have contributed $100 and up to our fundraiser will receive an invitation to our launch party soon.
Speaking of our fundraiser: if you haven't contributed already, please do so here. Right now, our biggest need is wire racks. The more money we raise, the more racks we can purchase, and that means there will be more venues where you can pick us up. They aren't cheap.
I'm very proud of the coverage we've been able to bring you so far. Take a look at our homepage and surf through some of the stories. Do you know of other events and situations we should cover? Email crystal@huskeymedia.com or jj@huskeymedia.com.
Our new website will launch by the end of the week, and I think you'll love it. If you don't ... eh, you'll get used to it.
That's what's up. We're laying out our stories and making them visually stunning, and, of course, selling ads. If you own a business, contact us, we have some great deals going on for the first edition.
If you want to meet any of us, if you have a story idea, or if you want to write, shoot video or photography for us, email crystal@huskeymedia.com. Join us, we're having a blast.
Community
Hard Knox Independent
Blog