From Selma to Ferguson: The Movement Continues

Jan 27, 2015 10:37PM, Published by Diana Bogan, Categories: News Featured Stories, Music
---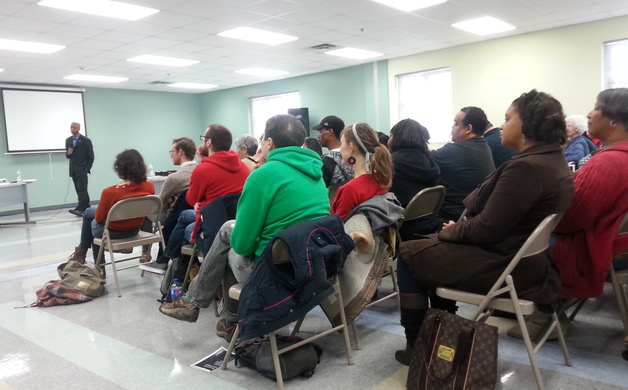 A large crowd was present at the forum. Photo: Elizabeth Wright
---
---
Fifty years after the "Bloody Sunday" civil rights marches from Selma, Ala. to Montgomery, Ala. -- a march that centered around establishing voting rights for African Americans -- local participants of those struggles met with a new generation of activists in Knoxville to "share the torch" as the Black Lives Matter movement accelerates locally and across the U.S.
"From Selma to Ferguson: The Movement Continues", was the latest Hip Hop Forum sponsored by the FLOW (Freedom in Learning Our Worth), a nonprofit that "educates, empowers, and enlightens" the public about hip hop and encourages dialogue around critical issues facing the community.
The Jan. 24 event featured several panelists, including Avon Rollins, a founding member  of the Student Non-Violent Coordinating Committee who led civil rights protests in Knoxville and throughout the South and later went on to direct the Beck Cultural Exchange Center.
"For this new leadership, our elders are going to have to move over and give you an opportunity to make mistakes but to grow and to continue to move forward in the 21st century," Rollins said. "I never thought we would be dealing with these same issues 50 years ago that we're dealing with today: unemployment, health care, all these other issues. You don't need the dogs to be in front of the Tennessee Theatre or the Bijou theatre – if you don't have the money or a good credit card, you still can't go in."
Other panelists included Ruby Shuttlesworth, daughter of civil rights leader and Southern Christian Leadership Conference co-founder Fred Shuttlesworth, who lived through a bombing at their home in 1956 and a brutal attack on her parents after their attempt to enroll her and her siblings in an all-white school in Birmingham, Ala. Also present was Dorothy Mitchell-Kincaid of Alcoa, Tenn., an advocate and oral historian for black communities in Blount County; Joe Tolbert, Director of Community Engagement at Carpetbag Theatre, who weaves art and culture through his social justice work; and Corey Legend Hodge, a UT senior who participated in recent racial justice actions on campus and organized Break the Silence to elevate the voices and experiences of  people from "overlooked demographics".
Panelists and attendees discussed lessons from the past while lifting up the importance of "sharing the torch" and supporting current youth-led movements that employ new tactics like decentralized leadership, social media engagement, and the celebration of hip hop culture and music to fight institutionalized racism, police brutality, and systemic injustice.
Mitchell-Kincaid noted that people as young as 13 years old helped lead the movement in the 1960s although their contributions are often overlooked in popular history.
Edward Abbey, a sixth grader at Vine Middle Magnet School, addressed the panelists about current events such as allegations of police brutality against racial minorities. "A number of kids at our school want to change things, but they don't want to do anything because they're afraid of the police officers in our school and they see what's on the news and on Facebook and they know what can happen, and they're scared," he said.

Abbey also attended the School Pushout Forum in Knoxville on Jan. 22 that addressed racial disparities in Knox County School suspensions, an issue young leaders in Knoxville are including in their efforts for social change. A federal lawsuit has been filed against the school system in light of data revealing that black students and students with disabilities are disciplined three to six times more often than white and able-bodied students. This  "school-to-prison pipeline" is one example of a new incarnation of old injustices, according to participants at the forum.

"Segregation was outlawed, but replaced by its daughter, 'racism'," Shuttlesworth said.
Embodying the arc of the movement addressed in the forum, several Knoxvillians in attendance had traveled to Ferguson in October 2014 to participate in a national "Weekend of Resistance" speaking out against state-sanctioned violence and police brutality against African Americans. The experience sparked ongoing local organizing efforts, including meetings and marches and the formation of "Knoxvillians Against Injustice."
Andre Canty, moderator of the forum, said he was among those who traveled to Ferguson. "During all the marches [in Ferguson], I started to live what I had read about and it wasn't the mythological stuff I used to read about," he said. "It was tense, it was real, including snipers on the roof of the police station. We're talking about Ferguson, not Somali or a war-torn country. The beauty was that there were so many walks of life there, all in the name of justice."
Rollins shared experiences of marches in Danville, Va. where tanks with machine guns and water hoses were used to quell protests, and in Selma, where police batons were wrapped in barbed wire. "We survived this situation. But is America the home of the free and the land of brave? The answer is still no."
Panelist Joe Tolbert said Hip Hop can provide a metaphor for how different generations can fight new iterations of long-existing injustices. "Hip hop sampling gives us a metaphor for how we can work together," he said. "You all gave us what to sample, so we can take that and remix it to the beat of the next generation. We listen, take the original, and flip it to something that better suits our needs and the intricacies of the moment we're in now."
— Elizabeth Wright

Panelists participating in the From Selma to Ferguson forum shared what young leaders and elders need from each other. Read More » 
---
---
---