Bullman's Kickboxing and Krav Maga

Jan 27, 2015 02:34PM ● Published by Diana Bogan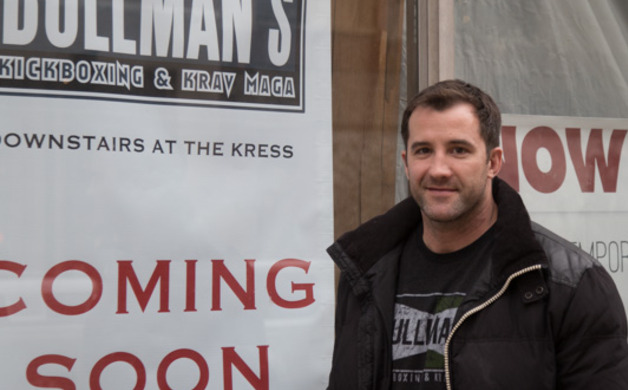 It's raised a few eyebrows – that sign on the front of the Kress Building that announced the advent of, "Bullman's Kickboxing and Krav Maga." Kickboxing downtown? What the heck is "Krav Maga?" I met with Terry Bullman to get the answers to those questions and much more. What I found surprised me: this is a full-service gym.
Originally from Asheville, Terry's lived in Knoxville since 1997 and he's lived downtown since 2008. He loves downtown Knoxville and wants to do his part to make it as good as it can be. He has two sons who have spent much of their lives in the city. One will attend UT next fall – and may help in the gym – and the eleven-year-old enjoys riding his scooter around the city.
After high school Terry took Tae Kwon Do and began working at a gym in Asheville, eventually becoming a personal trainer. He began entering Toughman competitions and did very well, but wanted to shift to boxing. He moved to Knoxville with the intention of fighting as an amateur, but was forced to fight as a professional because of the prize money he'd won in the Toughman contests. Ace Miller was his trainer for about eight years. If you are thinking, "Well, he might be tough," he casually mentioned during our conversation that he ran with the bulls last year, so he probably is pretty tough.
Finished with the boxing world, he began teaching at East-West Karate and later at Premier Gym. Training with Darren Levine, founder of the Krav Maga Association of America, both in Knoxville and later in L.A., Terry gained his certification as an instructor. Mr. Levine is largely credited with bringing the self-defense system – it's not a sport – to the U.S. Just this past November Terry earned a second-degree black belt in Krav Maga. After working at other gyms, Terry started Bullman's in 2007 in Homberg and later moved the operation to the current location at 4511 Kingston Pike.
Krav Maga is the self-defense system the Israeli Army teaches to all the men and women who serve – and that includes everyone in the country, so weak, strong, male or female, this system was designed to be learned quickly and to be useful to anyone. The words literally translate, "contact combat," and it includes defense against gun and knife attacks. He pointed out, "not enough people invest in personal safety. We insure for other things – but assume 'it can't happen to me,'" when considering personal safety. While he's fine with people carrying guns, he feels a greater degree of security comes with being able to defend yourself without a weapon since you may not have it when you need it. The classes also deliver powerful cardiac workouts.
Read the rest over at Inside of Knoxville!
— Alan Sims, downtown correspondent
News
Downtown
Business
Inside of Knoxville
Alan Sims
Krav Maga
Kickboxing
Darren Levine
Bullman's Kickboxing and Krav Maga
Kress Building