Poetry Slam Scene Rapidly Growing in Knoxville

Jan 22, 2015 01:22AM, Published by Diana Bogan, Categories: Arts+Entertainment Featured Stories, Arts Scene
---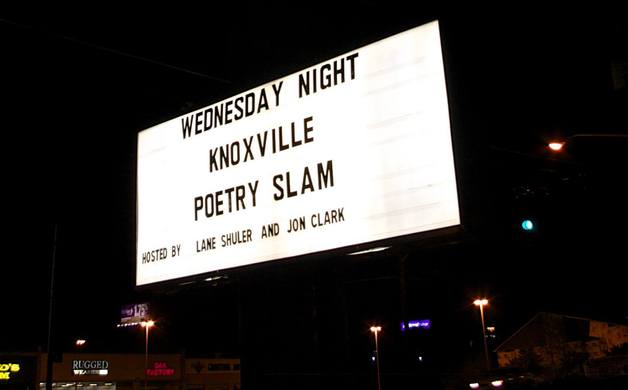 Gallery: Knoxville Poetry Slam [5 Images] Click any image to expand.
---
---
We recently spoke with Lane Shuler, an organizer and MC for the Knoxville Poetry Slam group about the growing community of poets in our area and the rise of the competitive form of spoken word artistry. Shuler, who presented at the Open Chord Brew House last week, a new venue for the group, was surprised and elated by the massive response the event received on Facebook and is very optimistic about future events. He is also very pleased to be just one of three monthly poetry groups in Knoxville that includes the Fifth Woman poetry group hosted by Rhea "Sunshine" Carmon, and Po' Boys and Poets hosted by local legend Black Atticus.
Slams occur year round; many cities across the nation will cultivate a team that will compete on a regional level in June's Southern Fried Poetry event. This year's event will be held in Little Rock, Arkansas, and will feature competitive poets and teams from across the Southeast.
The diversity and frequency with which these events are now taking place in Knoxville can only help to bring this art form a stronger following and provide the community a larger pool of artists who can compete both regionally and nationally.  When we spoke with Rhea Carmon about the expanding popularity of these events she expressed a similar outlook to that of Shuler, grateful that her earlier years as the organizer for Knoxville Poetry Slam were part of that history of growth and development. She's eager to write a new chapter with her fledgling group of female poets.

Shuler will be returning with Knoxville Poetry Slam to the Open Chord Brew House on February 10th.

The Fifth Woman Poetry group meets on the third Friday of each month at the Birdhouse Knoxville at 4th and Gill, while Atticus' Po' Boys and Poets is scheduled for the fourth Saturday of each month -- which is this weekend -- at Big Fatty's on Kingston Pike.

— Benjamin Zayas, staff columnist

The next poetry slam: 
---
This video is the first in an ongoing series following the growing competitive poetry movement in Knoxville.
---
---
Featured Stories Benjamin Zayas Spoken Word Poetry Knoxville Poetry Slam Arts Scene Wordsmiths
---