Cafe du Soleil: French Inspired With a Southern Flair

Jan 20, 2015 09:54PM ● Published by Diana Bogan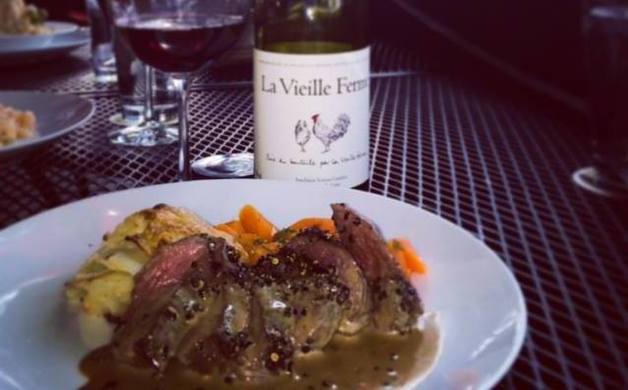 Photo courtesy Cafe du Soleil
"How do you choose the restaurants that are on the tours?" is a question I frequently get asked as I am leading the Knoxville Food Tours.
"Well, it happens in various different ways," I most often respond. Currently in my fifth year of touring local restaurants while describing the history of the city, restaurant owners will often contact me now in order to get their business in the tour rotation. That's exactly what happened recently with a new restaurant that popped up in downtown Knoxville, called Café du Soleil.
My ancestors came to this new world in the 1600s from England, Ireland, and France. In addition to potatoes a hundred ways, I inherited an affinity for mille-feuille, profiteroles, and beurre blanc, that is – multi layered pastry, cream puffs, and butter sauce. Contrary to popular opinion, there is no need to feel intimidated by French food, especially at Café du Soleil, where French fare is made approachable and attainable for us East Tennesseans.
Café du Soleil, Cafe of the Sun, derives its name from its close proximity to Knoxville's iconic Sunsphere, the 75 ft. steel truss structure built for the 1982 World's Fair to represent the fair's theme of energy. This petite cafe seats 30-35 guests and lies along Clinch Ave., just a couple of blocks over from the heavily tourist traveled Market Square. For visitors to downtown, it's well worth the short walk to Clinch Ave. It's an equal opportunity street, home to the Knoxville YMCA and the YWCA, both housed in historic buildings designed by Charles Barber, son of George Barber, one of the first architects to send out his home plans in mail order catalogs. You can casually make your way from the Tennessee marble clad old Knoxville Custom House, now the East Tennessee History Center, all the way to the Sunsphere and World's Fair Park, with a stop at Café du Soleil in between.
"French inspired, Southern style, that's our motto," owner Joe Consumo tells me. "It gives us room for freedom and creativity."

Joe possesses traits every new business owner needs -- excitement and energy. He bought the business in June 2014 with one other business partner, Chris Dillon, of Baton Rouge.

"We were always looking for a business to get into together," he said, "and when this opportunity came along, we thought it was perfect to start with something small."

Although Joe is very familiar with fine dining, it is his first foray into running a restaurant.  "It's a fun challenge, and I'm learning every day."

One main way Joe is keeping this French restaurant accessible is by using as many local ingredients as possible. The steaks are from Mitchell Family Farms in Blaine, Tenn., in Grainger County, just east of Knoxville.
"The beef is organic, grass fed, healthier, and tastes better," Joe emphasizes.
I tell him I know he had been working with the local farmers from the beginning, because I had been following this restaurant since it opened, as I do most new restaurants, because I know my tour guests will ask about them.
All this talk of farmers and fresh food brings over Café du Soleil's chef, Dino Nicolou.
"French cooking is all about ingredients and technique," Dino declares, noting that he will be visiting with all the local farmers. "We want to be true Farm to Table; I want to go to the farmers and ask, 'what do you have for me today?'"
He doesn't want to tell them what to grow specifically for Café du Soleil, but rather to wait and see what becomes available through the seasons and build dishes based on that. They will have many seasonal specialties.
Dino learned his culinary skills in his native Greece. In Knoxville, he has worked as executive chef at Regas, Baker Peters, and Café 4.
"We are looking forward to the challenge of building up Café du Soleil. We want to have food you won't find anywhere else in Knoxville, so that our guests will say, 'That wasn't what I was expecting.' We want guests to try new things, French food is not intimidating," Dino assures.
Some of the items that have recently been on Café du Soleil's menu are a filet au poivre (steak with cracked peppercorn) with Cognac (brandy named after the town of Cognac, France) cream, duck confit (cooked in its own fat) collard greens, steelhead salmon filet with basil beurre blanc (butter sauce), leg of lamb in Herbs de Provence (dried herbs from Provence, France), potato au gratin (potatoes baked with a crust), crème brulee (cream with a burnt or torched topping), and Gateau Basque (an exquisite almond tart from the Basque region of France).
See, easy, right?  There's even a croque monsieur (grilled ham and cheese) sandwich, for the traditionalists.
As we are talking, Joe introduces me to someone breezing out of the restaurant. It's Stephanie Russo, a baker who has started working out of the kitchen at Café du Soleil.
"Stephanie will be baking all of our bread, desserts, and cakes from scratch, and she also sells to other restaurants and individuals," Joe tells me.
"She's a freelance baker?" I ask Joe, and we all giggle at my unusual terminology.
Joe shows me some pictures of her beautiful cakes, then she's off, I assume to her next intriguing gig.
"We've been getting many of our customers through word of mouth," Joe says.  "People can keep updated through our Facebook page and our website.  We have the perfect space for private events such as private parties, birthdays, and corporate events. We usually have a 15 person minimum and a 30 person cap. Our prices are negotiable."
Café du Soleil is open for lunch now Monday thru Friday from 11:00-2:00 and dinner Tuesday thru Saturday 5:00-10:00.
All right now, you brave Volunteers, I urge you to put aside your orange for a day and go out and experience, explore, and enjoy Café du Soleil, where French food is not daunting at all, but simply…delicieux!
About the author
Paula Johnson, the creator of Knoxville Food Tours, has made herself an expert in Knoxville history, haute cuisine, hole in the wall eateries, and hidden culinary hot spots. Since 2010, Paula has led over 400 Food Tours, hosting over 4,000 guests.  
Paula's first career in music earned her the Permanent Professional Certificate in Piano Teaching from the Music Teachers National Association.  An East Tennessee native, she is active in preserving the history of this area as a member of the East Tennessee Historical Society, the historic preservation group Knox Heritage, and the Museum of Appalachia. Paula is a member of the Knoxville Symphony League, a fund raising organization for the Knoxville Symphony Orchestra. She is also currently serving as president of the Board of Directors of the Candoro Arts & Heritage Center at the former Candoro Marble Company in South Knoxville, where she was the Chairperson of a fundraising dinner series, The Candoro Dinners, during 2013.  In 2014, Paula became the food columnist for Bearden/Sequoyah Life Magazine, Clinton Life Magazine, and Secret City Living. 
Arts+Entertainment
Knoxville Food Tours
Cafe du Soleil
Dining
Restaurant Reviews
French Food
Paula Johnson