Snow Day to Benefit Beardsley Community Farm on Jan. 23

Jan 15, 2015 05:31PM ● Published by Diana Bogan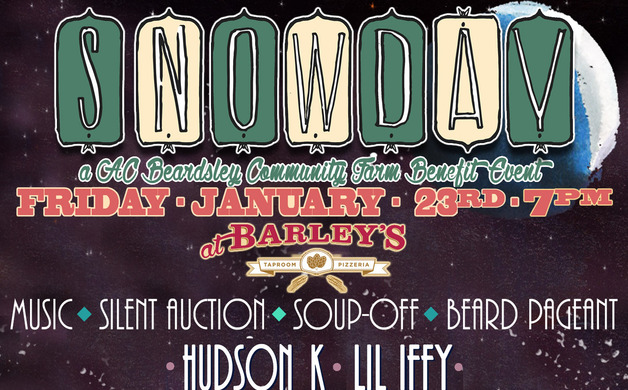 The 7th annual Snow Day, a CAC Beardsley Community Farm Benefit, will be hosted at Barley's Taproom and Pizzeria at 7 p.m. on Friday, Jan. 23rd. CAC Beardsley Community Farm is Knoxville's only urban demonstration farm that helps get fresh, healthy, local food to Knoxville's underserved communities. The purpose is to benefit CAC Beardsley Community Farm and your community, and to support sustainable urban agriculture and food justice in Knoxville.
Snow Day will feature seven performances by a diverse group of local musicians, a soup contest between some of Knoxville's finest restaurants, caterers, and chefs, a Homegrown and Homemade Beard Pageant, and a silent auction. So far, silent auction prizes include a CSA share with Colvin Family Farm, a YMCA household membership, and gift certificates to several local Knoxville businesses. More prizes are expected to be donated between now and January 23rd, and local artisans, businesses, and organizations are encouraged to participate in the large silent auction.
Snow Day has become a very popular Knoxville tradition with over 800 attendees and support from over 100 local businesses in Knoxville. These businesses included several restaurants, local retail, and media outlets.   Snow Day is an important event for CAC Beardsley Community Farm that helps raise about 15% of the annual operating budget.
Featured Musicians: Hudson K, LiL iFFy, Swingbooty, Dixieghost, the Tennessee Turkeys, Roman Reese with Michael Davis, and Shawna Cyphers.
Soup with Bread: A soup-off featuring some of Knoxville's finest local restaurants, caterers, and chefs.  Come early, soup off ends at 10 p.m.!
Pre-order tickets on Brown Paper Tickets:  $10 for soup AND admission (plus processing fees).
At the door: $7 admission, plus $3 for soup
Sponsors include Barley's Taproom and Pizzeria, Hard Knox Independent, Blank Newspaper, WUOT, WUTK, and WDVX.
For more information or to make a donation towards the silent auction, contact Khann Chov at 865-546-8446 or email beardsleyfarm@gmail.com
— Staff Report
News
News Briefs
Snow Day
Beardsley Community Farm