From the Farm to Your Table

Jan 13, 2015 09:45PM ● Published by Diana Bogan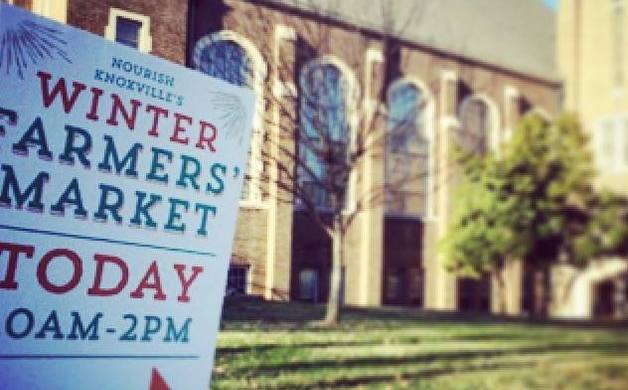 Even though it is really cold out there right now and my main farm source for hen eggs is not available to me at this time, it's good to know there are still places where I can buy fresh farm eggs locally, including Nourish Knoxville's Winter Farmers' Market that was held for the first time at its new location, Central United Methodist Church, in the Fourth and Gill neighborhood.
The next market day there will be on January 24th.
We love eggs around here at our home! They aren't just for breakfast, anymore. Breakfast for a supper meal is a great alternative to fast food for us. And I love to cook, so eggs figure prominently into many recipes I use. These days, I only use eggs from hens that are out running around on pasture. That supply does often dwindle in the cold months in the Knoxville area, but they are still available regularly at various places. (Some hens produce eggs in greater yields in cold weather than others, for example.) I thought some folks might want a little background on the types of chicken eggs that are available locally and some of the things that go into raising hens for egg production.
I gradually became more interested in buying foods from animal sources raised in humane conditions. So, initially, I switched from conventional, plain old super market eggs (that come from large factory farms, where hens spend their entire lives couped up in a small cage) to "cage-free" eggs. This sounded much more humane to me. I later learned this term means they are probably running around in a barn with mass quantities of other hens. And, probably had their beaks cut off so they don't try to kill each other living in such cramped, close confinement. It is much more difficult to keep critters healthy when they live practically on top of one another (as they literally do in  caged, factory farmed situations).
While cage-free is a small step up from living life confined in a small cage, it still isn't a very good life for these hens.
Sometimes cage-free hens are called free-range. The terms don't really mean much, except that they are not confined to live in a small cage. Sometimes, Free-range hens will have full access to the outdoors or at least some access to outdoors in these big factory farms. If they are certified organic eggs, then the laying hens are supposed to have some access to outdoors. However, this might be that they are only allowed outside on a concrete pad. Still, they would have some access to fresh air and sunshine.
Unless you call and talk to the business or visit the farm, you would not know what their outdoor experience is. They might be out freely roaming on open pasture or they might be only roaming around inside a barn. The term free-range is not a standard term.
So, some cage-free or free-range hens might get a little bit of freedom, fresh air and sunshine. But, there aren't many (or probably any) bugs or grass to eat in a barn or outside on a concrete pad. Buying locally from small farms usually means they are at least not being raised in an overcrowded situation and have a pen to run around in outside.
The very best eggs are from hens raised on pasture, where they can freely roam all over the farm during the day or at least freely roam all over a fenced-in area of pasture. Some farmers will keep them enclosed in a small moveable run. This still counts as "pastured".
They keep only a few hens in these confined spaces and move them daily or at least every few days, so they have access to fresh pastureland with fresh "greens", bugs, worms and other good stuff that hens normally eat.
The happiest hens are truly freely roaming about the farm, but they can be prey for raptors and other predators. At night they must be well protected (confined) to keep them away from nocturnal predators.
If you have vegetable gardens, they will scratch up and destroy all your veggies. Their scratching about is a great way to prepare garden beds, but you want to keep the hens out of your garden beds when they are still producing your food.
But, there are ways to have both. Some farmers fence their garden beds in, some use raised beds and some use the moveable runs to confine the hens.
Some farmers pen them up into large fixed pens during gardening seasons and then let them loose when the garden beds have finished producing. Farmers figure out what works best for them, but all are much more humanely raised than any cage-free factory farmed hens and their eggs will be higher in nutrients and so tasty!
Hens that are pastured get to do normal, "happy hen" things, like find a nice bit of dirt to scratch around in and have plenty of space to hunt and peck for bugs and stuff. In this situation, they are out scrounging up bugs and grass and other goodies from a wide range, they are also getting sunshine (and Vitamins D and K) into them and lots of exercise. You get happier, healthier hens PLUS more nutrition in their eggs.
It's true, I am really picky about my eggs. Not only do I buy only eggs from pastured hens, I also try to buy eggs from hens that haven't been feed soy. Soy causes all sorts of problems for folks. Many folks have allergic sensitivities to soy. It usually costs a little more to buy soy-free feed for hens. In general, hens can't really live completely on bugs, worms and vegetation and produce us lots of eggs. Perhaps in ideal conditions it is possible. But all the farmers I know of feed them as well. In addition to chicken feed, they get scraps, sometimes if there's extra milk from dairy animals they'll get that, too.
One farmer I know collected cow pies (yes, cow poop) and put them in their moveable runs with their hens in the winter. This way, they get a fresh supply of bugs and worms throughout the year, but they can still be kept in a relatively small area. Some farmers let their hens hang out with their goats or cows in the pasture. They rotate them into different sections every few days. This gives the hens extra food sources for additional nutrients and helps clean up the pasture. The hens help fertilize the pasture as well. Sunshine, wind and rain help further clean up the pasture.

Yes, local farmers who raise pastured hens work hard to bring you fresh, tasty and highly nutritious eggs! It costs more to raise hens this way. There is some loss from predation. If they are buying organic feed and nutrient supplements, this increases feed costs. There is more labor for the farmer – moving the hens around, for example.
So, it does cost a little more money for us to buy these premium eggs, but that's OK by me. The way I figure it, these farmers are working hard to bring these eggs to me, the way that I want them (nutritious, soy free, organic feed, from hens out on pasture). And I am helping support a local farm family who is providing me with a far more nutritionally rich food, which in turn helps keep me healthier. It's a win-win.
— Marty McWhirter, reporter
Arts+Entertainment
Blog
Food
Nourish Knoxville
Farmer's Market
Central United Methodist Church