Obama Discusses Education, 3D Cars in Knoxville

Jan 10, 2015 05:23PM ● Published by Diana Bogan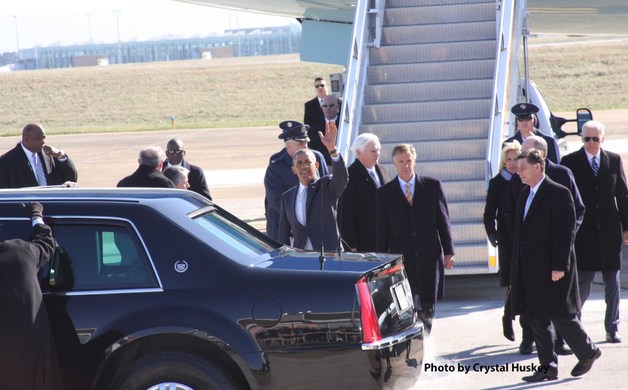 President Barack Obama waves as he prepares to head to Pellissippi State for a speech. Photo: Crystal Huskey
Gallery: President Barack Obama's Arrival in Knoxville, TN, Jan. 9, 2015. [11 Images] Click any image to expand.
As President Obama's motorcade passed by, dozens of local residents lined Airbase Road and Alcoa Highway with cameras to catch a glimpse of the motorcade, some waving as it passed.

While at Pellissippi State Community College, the President announced his proposal to make two years of community college free for all responsible students no matter their age.

He chose to make the announcement in Knoxville because the Tennessee Promise program, initiated by the state's Republican governor, Bill Haslam, served as "an inspiration for the president's proposal and demonstrates that the proposal is both ambitious and achievable," according to Eric Schultz, the deputy press secretary.

"The president believes the success we've seen in Tennessee should be available to all 50 states," said Schultz.
The announcement was described by Schulz as a way to "start a national conversation about how college access can be expanded for all Americans."

Sen. Bob Corker (R-Tenn) is in favor of the program in Tennessee but doesn't believe that making the program should be extended to a federal level.
"You're always better off letting states mimic each other," he said.
While in Clinton, the President announced the latest in a series of partnerships aimed at boosting advanced manufacturing, fostering American innovation, and attracting well-paying jobs that would strengthen the middle class, according to a White House press release.
"After a decade of decline, American manufacturing is coming back, adding 786,000 new jobs since February 2010," said the press release. "The new action is the kind of investment we need to build on this progress, creating the foundation needed for American manufacturing growth and competitiveness in the years to come."

"These hubs just make sense," Obama told the crowd at Techmer. "They work. They get people working together. They create an ecosystem for a particular type of manufacturing and a specialization. That allows them to be a magnet for others that want to participate in this industry."

While at Techmer PM in Clinton, Obama and Biden were given access to a 3D printed, carbon-fiber replica of a Ford/Shelby Cobra. The car weighs half as much, but is just as strong as the 1960s original Shelby Cobra. It went from concept to prototype in six weeks, according to the White House, and from design to fully printed parts in 24 hours.
The president landed at at noon at McGhee Tyson Airport. He was accompanied by Sen. Lamar Alexander, Sen. Bob Corker and Rep. John Duncan aboard Air Force One. He was greeted by Vice President Biden, who flew in separately aboard Air Force Two, his wife Dr. Jill Biden, Gov. Bill Haslam, Col. Thomas Cauthen, Wing Commander of the 134th Air Refueling Wing with the Tennessee Air National Guard, Mayor Tom Bickers of Louisville, Tenn., and Knoxville Mayor Madeline Rogero.

Staff Report


Obama and Biden left Knoxville a little after 5 p.m. on Friday.
News
Featured Stories
Presidential Visit