Market Square Closures: Another One Bites the Dust

Jan 06, 2015 02:29PM, Published by Diana Bogan, Categories: News Downtown, Business
---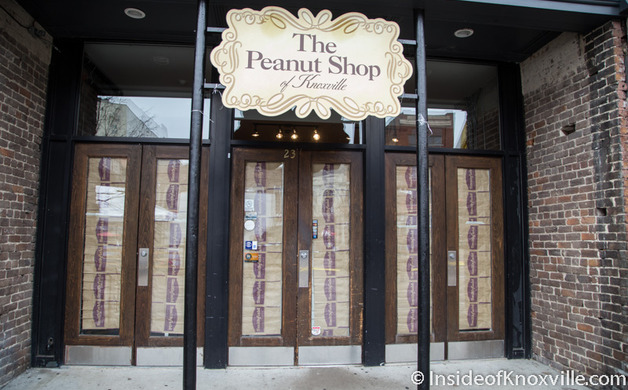 The Peanut Shop in Market Square is closed. Photo: Alan Sims
---
---
The closure of the Peanut Shop on Market Square has been reported elsewhere, but not mentioned here, as it happened over the holidays. Hopefully it will be the final closure on Market Square for the foreseeable future and we'll have good news to report soon. There are many reasons businesses fail and they certainly fail everywhere, but when so many fail in such a short time in the heart of Knoxville, it's somewhat startling.
I thought we might take a look at some of the reasons these businesses ended. I had the opportunity to talk at some length with a former manager of the Peanut Shop (who asked that her name not be used). I'll also address a rumor that has floated around downtown recently.
There is really very little in the way of a thread that runs through the various businesses which have closed. I've mentioned that owner Willy Rosenberg has health issues and didn't have a great last part of the year. Latitude 35 had a number of issues, among them the fact that they lost their alcohol license. Steamboat is returning to a previous location where they own the building and won't have to pay rent. Those are all local businesses.
There are two franchise businesses which have closed: Orange Leaf and the Peanut Shop. As I mentioned in the update to the triple closing article, Orange Leaf has problems which have nothing to do with Market Square. All the stores in Knox County closed at the same time. There is also a 33 million dollar lawsuit against the chain. The one on Market Square seemed popular enough to me, but how many cups of yogurt would you have to sell every day to keep the lights on, pay the rent and the employees? It's hard to imagine selling enough.
By Alan Sims, special correspondent
---
---
Downtown Business Inside of Knoxville
---