Local Musicians, Comedians to be Showcased at Winery

Jan 05, 2015 11:13PM, Published by Diana Bogan, Categories: Arts+Entertainment Music, Humor
---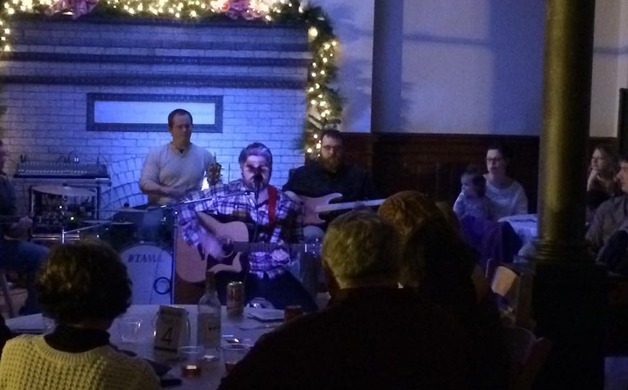 Handsome and the Humble performed at the Blue Slip Winery in December. Photo: Blue Slip Winery
---
---
Blue Slip Winery, Knoxville's first winery and the State of Tennessee's first urban winery, celebrated the successful launch of Southern Railway Station Live on Dec. 2, 2014. Southern Railway Station Live is a unique musical experience combining local wine, food and music in Knoxville.
Robert Lee, who appeared on last seasons "The Voice," played to a crowd of friends and family for the inaugural show. With eight tables in the 1,776 square foot Southern Railway Station Spencer Ballroom, Blue Slip hopes to provide a musical experience unlike any other in Knoxville.
"I had a great time, the staff was awesome, the crowd was awesome and the room sounded amazing," said Lee. "It was most certainly a nice change up from playing a normal gig."
Doors open at 6 p.m. and show time is 7:30 p.m. for all shows. Future shows at the Southern Station will be acoustic-based and encourage freedom among the artists, but also create a sense of vulnerability in terms of how the room is setup, according to Linn Slocum, president of Blue Slip Winery. All shows will feature wine from Blue Slip Winery and food from Forks on the Road, with future sponsorship opportunities in the works. Admission for shows is currently $10, with advance purchases strongly suggested.
"There are a lot of excellent musicians in Knoxville and the surrounding area," said Slocum. "We want to create an atmosphere in this space that celebrates the artists and their music and creates a sanctuary for singer/songwriters in the area."

On Wednesdays, the winery will host Station Comedy Showcase, which will host local comedians on a weekly basis.

Click here to purchase tickets to future shows. For more information, call Clay Crownover at (703) 717-8992 or email media@blueslip.com. Blue Slip Winery is located at 300 West Depot Ave. in Knoxville.

Other Southern Railway Station Live shows include: 

Thursday, January 8, 2015 at 7:30 p.m.
Zack Miles

Tuesday, January 13, 2015 at 7:30 p.m.
Brandon Harmon and the Halfway Hearts
Friday, January 16, 2015 at 7:30 p.m.
Danika Holmes
Tuesday, January 20, 2015 at 7:30 p.m.
Subtle Clutch
Tuesday, January 27, 2015 at 7:30 p.m.
The Hotshot Freight Train
Want to see more stories like this? Check out our fundraiser!
---
---
Knoxville Humor Music Blue Slip Winery Southern Railway Station Live
---