From the Publisher: The Journey to Finding a Printer

Jan 04, 2015 12:15AM, Published by Crystal Huskey, Categories: Community
---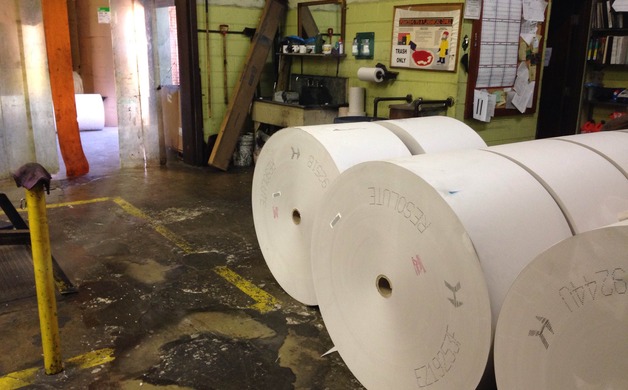 Reams of paper filled the print warehouse of the Greeneville Sun. All the paper that is printed incorrectly or left over is recycled. Photo: Benjamin Zayas
---
---
The first time I met with this crew and discussed starting a paper, I offered my services as a publisher, which included negotiating deals with print shops and all that jazz. I had previously used a printer in Iowa for my monthly publications because they were cheap and good, but for a weekly paper they just weren't going to cut it. We needed a turnaround time measured in days, not weeks, so it was time to pick up the phone and start making calls. As it turned out, a lot of them.

You would be surprised how many local printers have shut down over the past few years. It's been tough for small business owners in general, and print isn't exactly a booming business right now. Many of them were undercut by the Knoxville News-Sentinel, and many of the smaller newspapers in our area have been bought up by companies that shut down their presses to outsource costs. Suddenly, finding a printer in or around Knoxville was a lot more challenging than I had expected!  We'd already hit roadblocks in many areas (most of those stories for another day), but the printer dilemma was especially worrying. Without a printing contract, we couldn't draw up a budget or even know for sure the physical dimensions of our product. Not knowing our size, in turn, prevented us from designing our publication, allocating ad space, and a dozen other things that were absolutely essential.
We connected with a printer in Pulaski early on, but that involved an eight-hour round trip every week. That was doable, but not ideal. Next, we got a few quotes from small printers within a three-hour radius, but often the prices were just too high. A few didn't have space for us in their production schedule, while others could only do black and white. Finally, we had a great quote from a local printer in West Knoxville. We were all set to go when they called and said they couldn't work us into their production schedule because were short-staffed and overworked (a complaint we were beginning to empathize with).
Finally, at JJ's recommendation, I called the Greeneville Sun in Greene County, Tenn. According to J.J., they had several things going for them: many decades of experience, a strong commitment to journalism in the East Tennessee region, and an established distribution network that already carried products to our area. So, a few of us made the drive to the small town of Greeneville and were immediately blown away by how helpful and professional they were. Dale Long, the Sun's circulation director, gave us the grand tour and explained the process of printing a paper.

Coming from a magazine background, I had a few things to learn regarding how colors are used in ad design and the best way to lay out our product. Turns out they could even deliver it to us for an extremely reasonable price.

There was much rejoicing.

As of today, we're still on target to begin printing later this month. In fact, we'll head back to Greeneville and shoot some video of our first edition rolling off the presses in just a few short weeks. It's an exciting time!

Thanks for your support,
---
---
Hard Knox Independent Crystal Huskey From the Publisher
---