Better or Worse Movie Review: Tim Burton's 'Big Eyes'

Jan 03, 2015 12:50AM ● Published by Diana Bogan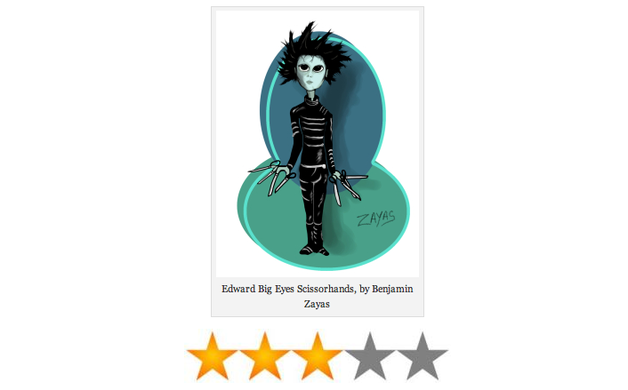 Luckily, for viewers, Helena Bonham Carter and Johnny Depp were too busy to take on this most recent project by veteran "weirdhouse" director Tim Burton, but having said that, it will prove disappointing to those expecting his peculiar sensibilities as this film has very little of his visual style, eccentric humor, or cartoonish theatricality.  The film, for those of you who don't know, is a biopic that focuses on the tumultuous period of fame in the life of Nashville born artist Margaret Keane.
Keane was famous through the late fifties and sixties for painting waif-like children with grossly disproportionate eyes, a style that has been inspirational to some and loathed by others ever since.  Though she was the artist behind the paintings, her husband at the time claimed the work as his own.  It was only after the work took on international popularity and the couple divorced that Margaret decided to reclaim the work as her own.
The best performance in the film is Amy Adams as Margaret Keane.  Adams is ripe for a breakthrough performance and I personally can't wait to see it, but she is in desperate need of an agent who will venture to put her in more roles like Charlene Fleming in "The Fighter." In this film, Adams' accent is very good (for a non-Tennessean) and, although I was sad to see her without her signature red locks, she is able to adequately capture the look of Margaret Keane specifically and the period of the 1960's in general.
Christoph Waltz is good in the film and at times even steals scenes. His performance, however, begins to fall apart when his character, Walter Keane, starts to show his true colors. His accent changes drastically when his character is intoxicated, which detracts from some scenes and makes a few potentially poignant moments farcical. The supporting cast is adequate for a biopic:  Terence Stamp is the underdeveloped standout in the film as New York art critic John Canaday while Danny Huston is the overused narrator and news reporter Dick Nolan.
Ultimately this film suffers from the problem many biopics do - a famous life is often best told either as an entire story from birth to death or, alternately, as a snapshot of a moment in time, usually when they are at the peak of their fame. But how do you condense one and expand the other to fit into a two-hour window?  In the film "Ed Wood" (a 1994 biopic of the b-movie director Edward D. Wood, Jr.), Burton was able to tread that fine line perfectly by picking up the story of a man about to start creating some of the worst films of all time and closing just as Wood finished what he considered to be his masterpiece, "Plan 9 From Outer Space."  The story behind "Big Eyes" could have been told in an equally effective way through the use of a unique visual style and larger-than-life characters. Instead, it comes off as a made-for-television movie.  There isn't anything really spectacular about the story, the performances, or the visual style of the film.  It might give Margaret Keane's artwork a new audience who will appreciate the unique style she brought to kitschy art, but it does little more than provide a brief history lesson.  As one of the characters in the film says, "Art is meant to uplift." This movie falls very short of that.
Visually, this movie is quite different from most Tim Burton films with only a few moments of odd visuals to remind you of his trademark stylings.  The feeling I get from these rare moments is, however, more akin to watching a Michel Gondry film than a Burton one, and they actually seems out of place in the context of this otherwise very normal film. Even composer Danny Elfman seems restrained in this film. He delivers a quaintly subtle, jazz-inspired score that never rises above a fairly ordinary musical background.
Overall, I was disappointed by the film. It would be a surprisingly good television movie, but as a theatrical release it seems lacking in the fundamentals that make a film worth $15 a person. If you want to know a little more about Margaret Keane and her work, watch this film . . . just wait for it to hit Redbox, Netflix, or maybe cable.
Big Eyes is currently playing at the following theaters:  Regal Pinnacle Stadium 18, Regal Downtown West Cinema 8, Carmike Foothills 12, and Carmike 10.
Better or Worse
My Better or Worse comparison for this film is focused strictly on biopics.  One does it right, and the other is "Phil Spector."

Better Film:  "Confessions of a Dangerous Mind," 2002 (Currently available on Netflix and Amazon Instant Video).  Visually stunning and superbly acted film about Chuck Barris, the host and creator of "The Gong Show," "The Dating Game," and "The Newlywed Game" and his improbable secret life as a government assassin.  Directed by George Cloony and starring Sam Rockwell, this film is gripping, funny, touching, and will make you question reality as we know it (but in a fun way).
Worse Film:  "Phil Spector," 2013 (Currently Available on Amazon Instant Video) Utterly abysmal TV movie that takes fabulous actors (Helen Mirren, Al Pacino, Jeffrey Tambor) and puts them through the motions in a script that is not as interesting as the raw trial footage it's based upon. Not to mention the fact that it's nearly impossible to lose Pacino with just a wig. He was immediately recognizable in "Dick Tracy" even after several hours' worth of prosthetic makeup but somehow the folks who made "Phil Spector" thought a wig would be plenty.  Try to watch this one without laughing, but remember that I warned you the trial footage really is more interesting.
— Benjamin Zayas, film critic
Follow 
@HKbetterorworse
Arts+Entertainment
Movies
Benjamin Zayas
Tim Burton
Big Eyes