Deputy Closes 2014 With Rescue

Dec 31, 2014 10:14PM, Published by Diana Bogan, Categories: News Police Beat
---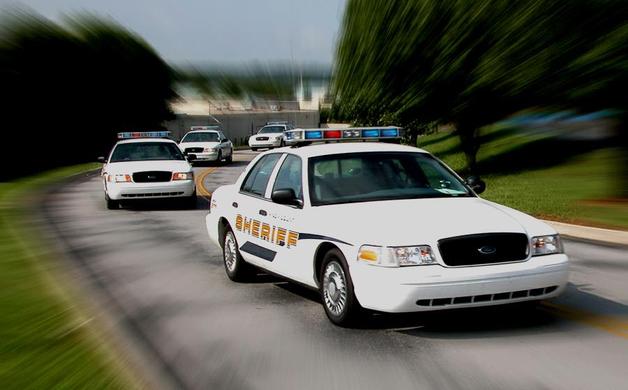 Knox County Sheriff's Office file art
---
---
I know, I know, we're technically on a holiday-themed hiatus today, but….
Sometimes a story comes up that we just really believe should be posted, holidays notwithstanding. In this instance, we want to give a shout out to James Schirnglone, an officer with the Knox County Sheriff's Office whose alert hearing may have saved the life of a woman yesterday who was pinned beneath her car for more than eight hours in the bitter December cold.
The woman, identified as 69-year-old Bessie McCormick, was taken to the University of Tennessee Medical Center, officials said. Her condition wasn't available today.
McCormick's daughter, who lives in Texas, became worried when McCormick didn't return phone calls or show up for work as a "healthcare giver," authorities said. She called the Sheriff's Office to ask them to check on McCormick, and Schirnglone was dispatched to her Chapman Highway home.
When he got to McCormick's address, he heard "a faint voice asking for help," according to a KCSO release.
"He went to the back of the house where he found Bessie McCormick's left leg pinned beneath the driver's side rear tire of her 2007 (Chrysler) PT Cruiser," the release said.
Schirnglone immediately called for help from the Rescue Squad and Rural/Metro, who managed to free the woman "within minutes after arriving," the release said.
Authorities believe McCormick "may have been trapped from around 6:30 a.m. until she was rescued shortly after 2:30 p.m.," officials said.
It wasn't immediately clear how McCormick became trapped but officials said the vehicle's automatic transmission was in the "drive" position.
Although we couldn't reach Schirnglone for comment, our experience with police officers leads us to believe he would probably say he was "just doing his job." And, while that may be entirely true, the bottom line is that he did it really well yesterday and may have saved a woman's life. Hopefully, a commendation of some sort is awaiting him in the near future.
And, of course, we'd like to wish Schirnglone , McCormick, and the rest of you a Happy New Year!
-- J.J. Stambaugh, editor
---
---
---