Meet the Publisher: Crystal Huskey

Dec 22, 2014 01:20PM ● Published by Crystal Huskey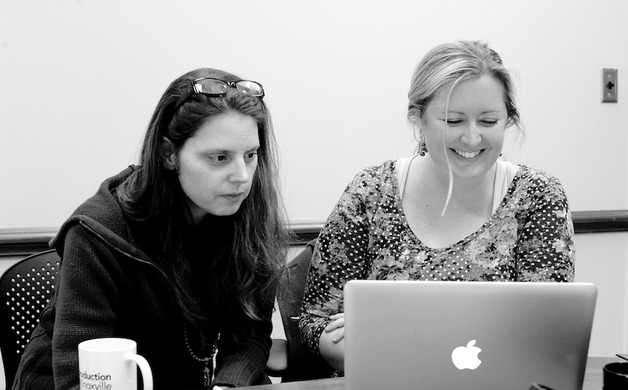 Publisher Crystal Huskey, right, working with Angela Townsend.
Allow me to share my personal reasons for being one of the founders of HKI.
I was 27. I had just written about 
Sakineh Ashtiani
, an Iranian woman sentenced to death by stoning, on my blog. Tears poured as I wrote her story, due in part to sadness — and in part to frustration at my inability to change any of it.
I had always considered myself a writer and had always been passionate about human rights. Then, at 27, I found myself sobbing for a woman across the world who I had never met. I remember slamming the computer shut. That was the point I knew I didn't want to passively hear the news — I wanted to help shape the stories we hear. I wanted to make sure that women like Sakineh weren't forgotten and wondered if I could do a small part to keep stories like this alive, through the power of words.
A story of injustice across the world had inspired me to make a difference in my own life.
I began to write, for free at first, then $15 per article, then $75 per story for a local daily online newspaper owned by AOL called Patch. My editor was harsh with my work, which was necessary. I wrote for online news outlets -- including the Foreign Policy Association and the Socially Conscious Blog -- and covered topics like famine in Somalia, the crisis in Congo and human trafficking in southeast Asia.
I pushed myself to get more experience and wrote regularly for a community newspaper, never forgetting my reason for starting all of this -- to tell the stories that mattered to me.
I was hired a year later to replace my editor at the Snellville Patch. One of the stories I covered that impacted my personal life was when Occupy Atlanta came to town. But I think I'll save that story for another column.
Eventually I was hired by the Yellow Pages to edit and publish a number of community magazines all across Knoxville.
Fast forward to the present: My husband, Paul, and I own Huskey Media, a media company based in Anderson County. I have found my voice through community journalism and want to continue offering a platform for people to be heard. I have had the honor of writing stories that have moved me; even better, I've had a part in making a difference in the communities I served. One article resulted in a horse farm that worked with autistic children being saved from foreclosure; another resulted in building bridges between an Islamic center and the neighboring community.
Here's my thoughts behind the Hard Knox Independent: the most important things I ever learned were written by someone else. I learned about rebellion and society through Albert Camus, about our country through Howard Zinn (and many others), and a fresh view on God through C.S. Lewis. Words have power. We want to bring you fresh views on things going on in Knoxville and provide a platform for people who have something to say but nowhere to say it.
We want to dig deeper into the stories that other outlets refuse to engage, we want to be the voice for the underrepresented members of our community. And we want to tackle the issues that matter to our readers unbridled by corporate fear, unaffected by endorsed rhetoric, and unashamedly ourselves in every article.
We know that we will not be able to fix all the problems our community faces. But we want to be able to present to you the problems that we all face in a nonpartisan, fair, and clear way so that you may take your part in the movement and make your choices in an informed manner.
Community
Hard Knox Independent
Our Staffers
Crystal Huskey
Huskey Media