Meet Our Columnists: Jim Buckenmyer

Dec 20, 2014 04:10PM, Published by Jim Buckenmyer, Categories: Community Our Columnists
---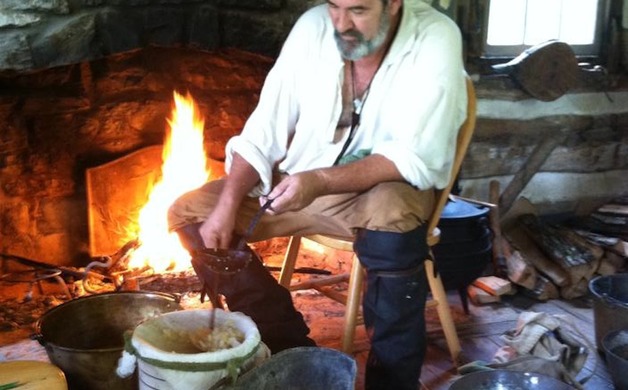 Jim Buckenmyer, Nature's Toolbox columnist
---
---
Some folks get into the "homesteading" movement to protect themselves, while others do it to protect the environment or even their wallets. In the end it really doesn't matter why, as the skills required for all the above lifestyle choices are roughly the same. Jim Buckenmyer is a well-known homesteader who has taught classes on everything from making homemade candles to effective composting and the best ways to preserve the food from your garden or latest hunting trip. Jim has a literal treasure trove of this immensely practical knowledge rattling around his cerebrum, and he has graciously chosen to open his brain to the Hard Knox Independent so we can share it all with you!
His column, "Nature's Toolbox," is often accompanied by "how to" videos produced by A/V Editor Benjamin Zayas. Be sure to subscribe to our YouTube channel! -- J.J. Stambaugh, editor 
Introducing Our Homesteader, Jim

Howdy folks. My name is Jim Buckenmyer. I will be writing a column for the Hard Knox Independent  called  "Nature's Toolbox." This  column will be all  about back-to-basics living. My interest in the subject goes all the way back to my teen years, so I've had several decades to bone up on it. It has led me in many different directions: gardening, food preservation, cooking, alternate energy sources and most of the skills that were a part of the everyday life of our ancestors.
When  I  meet  people  around  here  it's inevitable  that someone asks,  "You  ain't  from  around  here, are ya?" I grew up moving all around the Midwest but East Tennessee is my chosen home. I have spent almost my entire adult life here and would not choose to live anywhere else.
I've also had a lifelong love of history, and most of my previous writing experience was in that field. I've been an editor and columnist for some online magazines and have also appeared in some of the local Historical Society's journals.
My love of history and my interest in back-to-basics living led me into historical reenactment. I feel the best way to understand history is to try to experience it to the largest degree possible. I'm a bit of an anomaly in the Living History community in that I do not do war reenactments. While warfare has certainly played a big role in our history, 95 percent of life centered on other struggles. To tie this back to the subject of my column, I began teaching workshops on the ways of early settlers at several local historic sites.
I have described the current "homesteading" movement as prepping with a social conscience. A big part of homesteading is passing along what we have learned to others through volunteering. This, in turn, brings us to another feature of the Hard Knox Independent I'm excited about -- the upcoming Volunteer Of The Week feature should give recognition to people that have given so much more to others than just pocket change.
I have tried to make volunteering a big part of my life. My own volunteer experience has included Red Cross disaster relief, food drives, helping people who are fighting addictions and teaching. From the Boy Scouts to Ijams Nature Center and teaching at local historic sites, I've had the privilege of sharing what I know with others.
Hence this column. While I do my best to live the homesteading lifestyle, I find I learn the most when I share it with others. It's my sincerest hope that you can find something useful in what I have to say, and I also hope you will share with me so I can continue to learn myself.
---
---
---