Hard Knoxville History: A Look Back at the Origins of K-Town's Alternative Media

Dec 16, 2014 10:03PM ● Published by Diana Bogan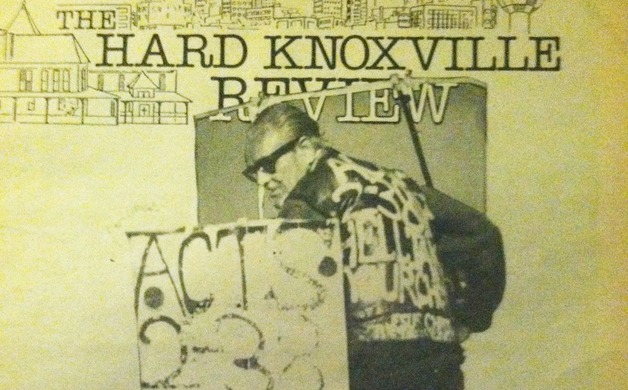 The Hard Knoxville Review
Although it wasn't Knoxville's first "alternative" paper (that honor might go to The Longstreet Journal, a Fort Sanders-based tabloid that published in the late '70s), it may have been the most influential. Without it, there might never have been the surge of small counterculture-based publications in later years that ultimately birthed Metro Pulse, the Hard Knox Independent, and the forthcoming Knoxville Mercury.

The brainchild of poet/musician R.B. Morris and artist Eric Sublett,


The Hard Knoxville Review was published only six times between 1981 and 1985. Despite its short lifespan, the publication defined Knoxville's artistic counterculture and influenced the format, tactics and attitude of nearly all the so-called "alternative" papers that followed in its wake (including the Hard Knox Independent, which pays homage to Morris and Sublett's creation with its name).  
"I just had a notion"
 The alternative press in Knoxville has a history that stretches back at least into the 1970s and has at times involved some of the city's most talented writers, artists, and musicians. Although the now defunct 
Metro Pulse
 was by far the largest of these newspapers, no one knows for sure how many smaller publications have lived out their usually short lives on K-town's streets since the cultural revolution of the 1960s that birthed the alternative press movement.
Before the creation of the Internet, there were few ways for individual citizens to reach a mass audience that didn't entail spending hundreds or even thousands of dollars. Yet that didn't stop a few brave or foolhardy souls from trying.
"Newspapers" like the Lame Monkey Manifesto, 14 Days, and The Brass Check once seemed to sprout like weeds, usually published from the Fort Sanders neighborhood by UT students or those who thrived on the many subcultures that have called that area home.
Some fit the traditional definition of a newspaper in that they focused on current events (The City Pages) while others were devoted to specific social issues (Tennessee Green and The Hellbender Press). Still others served as little more than platforms for their owners, usually left-wing activists or artists who had no other way to spread their word short of wandering the streets with a bullhorn or risking arrest by peppering the downtown area with graffiti.
The Hard Knoxville Review didn't easily fit into any of those categories.
Founded in 1981 by Morris and Sublett, The Hard Knoxville Review was basically an illustrated literary arts journal in the form of a tabloid newspaper.
As Morris and Sublett recalled during a recent interview in the living room of Morris' house in North Knoxville, they were motivated by the fact that there was no real way for local artists to communicate with each other or show their work to the general public at the time.
"I was not a journalist, but I just had a notion," Morris said. "There was just no art scene back then, and this was a way for us to feature artists. It was just a totally different day and age."
"Dirty and cheap"
In 1981, most small newspapers were still largely assembled by hand, Morris explained.

"Back then, when you talked about cutting and pasting that meant you were really cutting and pasting," he said, alluding to the countless hours that he and Sublett spent wielding scissors and glue.

Using those labor-intensive but effective methods, Morris and Sublett managed to piece together the first issue from the top floor of the Pickle Mansion on Clinch Avenue despite living in conditions that could have gotten the building condemned had local authorities cared.

"It was dirty and weird, but it was cheap," Sublett said. At the time, he explained, they were paying the princely sum of $20 a month to rent out the attic although it had no running water and the nearest working toilet was in a nearby hotel.
The name of their publication was an obvious reworking of the old phrase "school of hard knocks" that had evolved into a local slang term for Knoxville, according to Morris.  "We had been knocking around with the phrase 'Hard Knoxville' for awhile, and it just fit," he said.
Morris and Sublett used the same basic strategy to fund and distribute The Hard Knoxville Review that would be used by the many other alternative papers that sprouted in their wake. They managed to subsidize the first issues by selling space on the back cover to local businesses, primarily bars on the Cumberland Avenue "Strip" but also with a smattering of ads from downtown. Looking at the advertisements from the second issue is an exercise in nostalgia for those who remember the Strip from that bygone era when one could walk from Sam & Andy's Roman Room to the Old College Inn and Rechenbach's art supply store in a matter of minutes.
Rechenbach's played a particularly important role to The Hard Knoxville Review as both a financial supporter and distribution point. In fact, Sublett described how he and Morris would hang pages from their newspaper on the walls of the adjoining alley where they could be seen by hundreds of pedestrians a day.
"We kind of used that as a street art gallery," Sublett said. "We'd always post The Hard Knoxville Review up there for everyone to see."
"Gallery between the pages"
By promoting local artists and galleries, the paper soon became a sort of Rosetta Stone for those seeking to navigate the city's tiny but growing arts community. There were so very few opportunities for local artists to show their work or even meet one another socially that the presence of even a small publication like The Hard Knoxville Review had a tremendous impact.

"It wasn't like a newspaper, really," Morris said. "It was like putting a record album out. It was an artistic statement. It was like a small art gallery between the pages."

After the first couple of issues the duo stopped selling ads and instead relied upon donors who were acknowledged by name in print. "We treated them the way nonprofits did," Sublett said. "Anyone who gave us money or helped in any way, we just named them."

The biggest event that occurred in the lifetime of the paper was, of course, the 1982 World's Fair. Not only did the fair literally reshape the geography of the neighborhoods where many of Knoxville's young artists lived and worked, it also ended up having a seismic impact on the city's overall approach to the arts and nightlife, according to Morris.

"Just prior to the World's Fair, the club scene was very, very sporadic," he said. "There were not a lot of exhibitions for artists. The Old City didn't even exist back then."
City officials seemed to have little or no appreciation for either art or history, he continued. Despite the worldwide fame of Pulitzer-price winning local author James Agee, few people outside of the UT community seemed to even acknowledge his existence. This prompted Morris to dedicate an entire issue to Agee, even going so far as to reprint the first chapter of Agee's novel A Death in the Family.
"Knoxville was just very ahistorical," Morris said.
The World's Fair didn't have the kind of impact that civic leaders hoped for, but it ended up serving as a sort of catalyst for the men and women who contributed their poems, essays, and artwork to The Hard Knoxville Review, he said.
"It gave Knoxville a new context, a new perspective," he said. "Knoxville had a renaissance. It wasn't just the World's Fair, or the Arts Council, or UT. There were just tons of artists, tons of energy."
"Mutual rejection of the status quo"
Copies of 
The Hard Knoxville Review
 ended up in the hands of art collectors from Europe who came to town for the World's Fair and wound up taking them back home. There might not have been all that many copies printed, but those that ended up going overseas helped spread the word about Knoxville's embryonic art scene and built bridges that remain open to this day, Morris said.
"As small as it was, it did connect us and Knoxville to other literary figures," he said. "There were a number of people from London and Scotland who saw us….We were even visited by people from Germany who had heard of us through The Hard Knoxville Review."
Over the ensuring decades, Knoxville's art scene has steadily grown into a thriving community, he said. The city's best artists are no longer forced to conduct viewings in warehouses or hole-in-the-wall bars, and writers no longer have to scrape together hundreds of dollars for printers' fees when they can publish themselves online.
Still, The Hard Knoxville Review holds a special place in the hearts of many local artists and writers who first published in its pages. Copies of it are still hoarded and passed around by Knoxvillians who fondly recall the days when the city's counterculture was finally given a public voice.
Local writer, journalist and editor Jack Rentfro said the The Hard Knoxville Review was a formative influence on him.
"HKR was the first publication to give me a sense of community with other writers and artists," Rentfro said. "Eric was like the graphics partner of their duo so we all fell in together pretty comfortably over our interests in the outcast and the outre, our mutual rejection of the status quo."
The Hard Knoxville Review differed from many of its successors by not covering "hard news" stories. Rentfro pointed out that political and social issues were addressed in its pages but "the  animus was much more turned toward the creative as a way of addressing the political reality."
In the Winter/Spring 1983 issue, Rentfro published a lengthy piece of prose poetry called "Knoxology." A fairly representative example of the type of material published in The Hard Knoxville Review, "Knoxology" describes the post-World's Fair town as having "the scent of industry and debt" and closes with the enigmatic phrase: "Remember the ghosts."
"I think of 'Knoxology' as pretty juvenile now but it was part of growing as a writer for me," Rentfro said. "It was the first time I was publishing with a group of like-minded souls kicking and screaming to create a community for ourselves."
To check out what Morris and Sublett are up to these days, you can check out their Web sites at:
By J.J. Stambaugh, editor
Community
,
News
Hard Knox Independent
Knoxville News
Knox History
Alternative News Weeklies
Newspaper History
News Industry
R.B. Morris
Eric Sublett