Fast Food Workers Want Pay Hike

Dec 12, 2014 07:40PM ● Published by Diana Bogan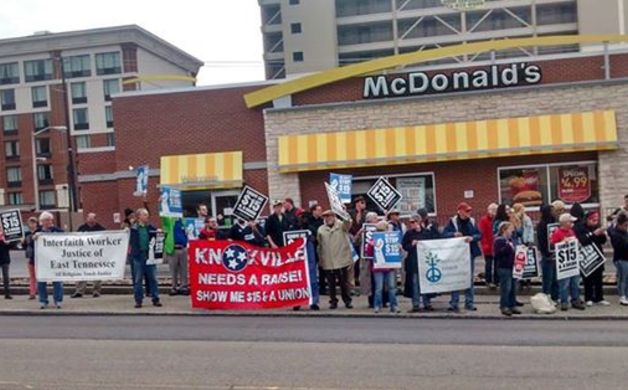 Fast Food workers call for increased wages in Knoxville.
Approximately 100 people took to the streets around noon today on Cumberland Avenue to show their support for boosting the minimum wage to $15 an hour. Most of the protesters were fast food workers who also oppose efforts to keep workers from unionizing.
"We work, we sweat, put fifteen dollars on our check," the crowd chanted.
Protesters gave varying accounts of how the low wages paid by service industry jobs prevent them from escaping poverty. Some told of having been at the same job for several years but still being unable to afford even basic staples or the kind of reliable transportation that would allow them to find other work.
"I barely make enough money to put food in the refrigerator," said Kema Williams, 18, a protester who works at the McDonalds on Magnolia Avenue.
Rob Wynkoop, owner of Gyrene Burger on Cumberland Ave., said hiking the minimum wage to such a high amount would be disastrous.
"Restaurant margins are based on sales. If you double labor costs your dollar menu becomes a four dollar menu," he said. "If the minimum wage went up to $15 an hour, I would probably replace my cashier with an iPad."
Event organizers declined to be interviewed by Hard Knox Independent.
By William Buckenmyer, Independent reporter
Originally reported via social media Dec. 4, 2015.
News
Business
Fast Food Workers
Fair Wages