Ferguson Protests Come to Knoxville

Nov 25, 2014 06:00PM ● Published by Crystal Huskey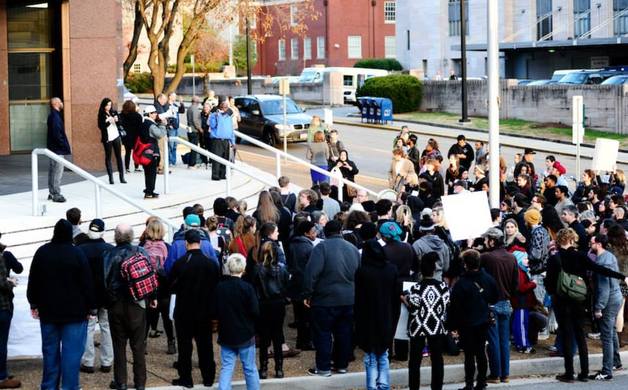 A crowd of nearly 200 protesters gathers downtown before marching to Market Square.
Gallery: Ferguson Decision Knoxville Protest [15 Images] Click any image to expand.
A crowd estimated at about 200 people gathered at 4:30 pm today at the Federal Building in downtown Knoxville. Most say they were there to show their support for the African American community in Ferguson. Protesters marched down Gay Street, temporarily blocking rush hour traffic, and gathered in Market Square. The crowd dispersed at 6 pm without incident. To see a transcript of our live coverage, search #fergusonhki on twitter. And be sure to follow us 
@hardknoxindie
.
(Originally reported on Nov. 25.) 
Photos by: Matthew Johnson
News
Live Coverage
#fergusinhki
Downtown
Market Square
knoxville protests
Ferguson