Kids have 'Fun on the Farm'

Aug 05, 2013 02:00PM, Published by Brian O, Categories:
---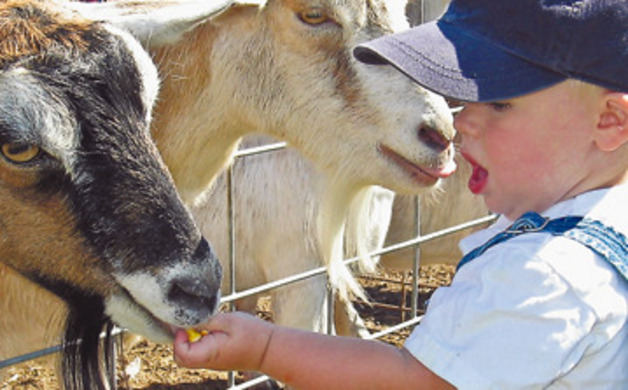 ---
By Anne Hart

It's all about kids at the Tennessee Valley Fair this year, starting with the 2013 theme, "Fun on the Farm," and continuing with a number of events designed to help children learn and develop new skills.
Thousands of youngsters attend the Fair each year to enjoy rides and funnel cakes, but the Fair is also a great learning environment.

"Fun on the Farm" will emphasize the unique mixture of amusement, agriculture and East Tennessee heritage showcased annually at the event.

Some of the special activities for children will last all 10 days of the fair. Among them:

Kiddie Land Fun Tent – Located next to the Ponderosa Zoo, Kiddie Land features free entertainment for children 2-12, including a Thank-A-Farmer magic show, mascot parties, sing-a-longs, storytelling, live arts and crafts and much more.

Ag-venture Scavenger Hunt –This interactive scavenger hunt located in the livestock barns is also designed especially for children 2-12 years of age and will allow them to experience agriculture like never before. Participants will obtain a map that will lead them to specific ag-based educational exhibits (cattle, horticulture, poultry, tractors and rabbits, for example) around the fairgrounds. When all stations are complete, participants will receive a special prize courtesy of Wendy's Restaurants.

Marvelous Mutts: A Canine Adventure – This thrilling dog sport entertainment event will showcase some of the world's finest canine athletes. The dogs amaze audiences as they flip and fly to snatch flying discs out of the air, race through obstacle courses with breathtaking speed, and launch themselves off a dock to catch a toy before it splashes into a pool of water. Spectators, children and adults alike always leave this show with smiles on their faces.

The Lego Extravaganza: Tournament of Champions will be in town only on Sept. 14, starting at 11 a.m. This event, which will be held in the Kerr Building, has been wildly popular since its start in 2011. Winners from the previous tournaments are invited to return to compete for the title "Lego Extravaganza Champion 2013." This is also an entertaining event for bystanders.

The Tiny Tot Pageant on Sept. 6 at 5:30 p.m. allows girls 4-6 to compete for a chance to win an exciting prize package. The contestant who is crowned Miss Tiny Tot 2013 will receive a cash prize, a professional headshot package from Reflections and Images Photography, a crown, banner, trophy and flowers. In addition to prizes, participants have the opportunity to develop poise and confidence and to meet other little girls who share similar interests.

There are dozens of other activities for kids at the fair this year, including hands-on science exhibits at the Discovery Center and the nightly show in the Akima Planetarium, also at the center; the Anastasini Circus, magicians and jugglers, the Ponderosa Safari Zoo with farm animals, lots of kid-size rides and games and livestock shows with cows, goats, rabbits, poultry and more.

More than 140,000 fairgoers are expected to visit the fair site at Chilhowee Park this year.

"East Tennessee children are the future of the Fair," says Scott Suchomski, the fair's executive director. "We are always looking for ways to enrich the lives of children in our community through our event. Each year, we offer thousands of competitions emphasizing agriculture, arts, music and more to help children expand their interests and learn something new. We actively encourage them to get involved in the Fair and make it a lifelong tradition."

In 2012, the Tennessee Valley Fair paid more than $45,000 in premium money to area youth exhibitors. Some 3,200 contests are offered each year in diverse categories ranging from student art, livestock, photography, culinary arts, horticulture, youth talent and much more.

Info: www.tnvalleyfair.org.

---
---
fun on the farm tennessee valley fair
---